Our history
Our values
The success we have reached today is due to the qualified and committed staff, punctuality and seriosity.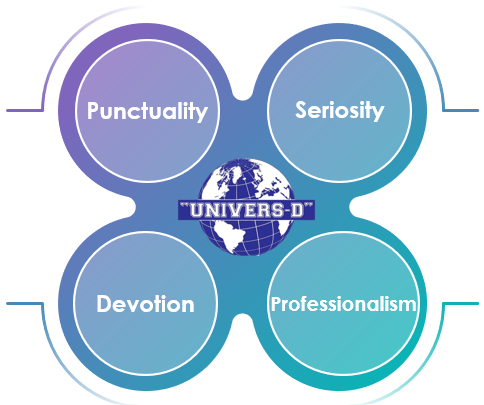 Foreign Language Center Univers-D
"Univers-D" language center is the biggest network of the foreign language centres in Durres. "Univers-D" language center is licensed by the Ministry of Education, Sport and Youth and authorized by the University of Michigan to organize and administer the Michigan International Exam.
Every year, the center organizes trainings with foreign lecturers for the teachers of our staff.

Univers-D Library
"Univers-D" library, the only one for foreign languages in the city of Durres, offers methods for foreign languages.

Services
In our language center we organize courses in: English, German, French, Italian and Albanian. Apart from these, we also hold intensive preparatory courses for the state Matura exams and the ninth-grade state exams of foreign languages. The preparatory course for the Matura exams is divided in two parts: mathematics and foreign language (English, Italian, French). Preparatory courses are also held for international exams such as: Michigan test, IELTS, TOEFL, FCE, CELI 2-3-4, CILS, SAT, DAF. The lesson is organized in small groups, using the latest methods and books.
All classrooms are equipped with the newest technology and foster a comfortable environment. A new service that we are offering is the employment of nurses in Germany, which consists in helping them to reach the required knowledge of the German language, as well as, providing work contracts in collaboration with "Optimize Consulting Services OCS". We offer the transport service with our own vehicle to facilitate learning, for the rural areas near Peqin, with 3 routes:
1. Pekisht-Shezë-Vashaj-Rrumbullak-Celhakaj-Gjocaj-Hasmashaj-Bardhas-Peqin
2. Bishqem-Cengele-Pajovë-Lazarej-Bicaj-Përparim-Copanë-Fatishë-Peqin
3. Karinë-Peqin